Another Top 10 List – The Best Sporting Events In The World
Sorry…Wrestlemania just missed the cut
If you've read "Pretty Enough For Radio over the past year and a half you know that I enjoy lists and I enjoy sports…well, it's time for another one.  With the Olympics in full swing I started to think of my favorite sporting events and I've compiled a top 10 list.
#10 – The World Series…This has fallen considerably over the years, but I still do enjoy the fall classic.  obviously if the Red Sox were playing in late October this would be higher, but another thing about this list is that I'm compiling it under the assumption that my favorite team isn't playing.  I'd rather watch the Red Sox play in the World Series than a Steelers-GIants Super Bowl, but without the Red Sox or the Patriots, the Super Bowl blows away the World Series
Favorite non-Red Sox memory – It would be easy to go Lu-Go off of Mo in game 7 of the 2001 series, but back in 1997 after my dad made me go to bed, I stayed up in my room with the lights off and my clock radio on, barely audible so I wouldn't get in trouble.  I listened to an amazing finish as the Marlins beat the Indians in the 11th inning of game 7 on a walk off single by Edgar Renteria…funny how Renteria is also a key figure in my favorite Red Sox moment as well…
#9 – The Final Four…Anybody who knows me well will be surprised that this is so low, because I'm a huge college basketball fan.  The Final Four is great, but as an alumni of a Mid Major without a dog in the fight so to speak once we get into the first weekend of April, I find the real excitement to take place in the first four days of the tournament…more on that later
Favorite memory – A lot of great Final Four games stand out, but the 7-0 run by Kansas down the stretch capped by an incredible Mario Chalmers three to force overtime in the 2008 finals was one I'll never forget.
#8 – The World Cup…I'm a huge sucker for international competition.  It sounds corny, but there's something about grinding it out in heated athletic competition for the pride of your country that gets me jacked up.  Throw in the fact that this happens only once every four years and I really get a lot of enjoyment out of it.  If the United States ever gets as deep as the semi finals in the World Cup, mark my words, this country will be in a frenzy.
Favorite non-USA memory – Believe it or not, it didn't end up the way I wanted to, but for some reason I have fond memories of the 1994 World Cup Final…maybe it's because it was on American soil and it's the first World Cup I really remember, but I still remember a great final between Italy and Brazil that ended with Italy's best player, Robert Baggio sending the last PK over the crossbar for a loss
#7 – Stanley Cup Playoffs…Because this is my list, I reserve the right to break up tournaments into individual rounds or include them altogether.  The beauty of the Stanley Cup playoffs is that the level of intensity in the first round matchup between the 1 seed and the 8 seed is already cranked up to a championship level.  Look at what the 8 seed LA Kings did last year?  They squeaked into the playoffs and then just started obliterating teams.  The hard hits, the fast action, hell even the playoff beards…how is this only number 7?
Favorite non-Bruins memory – When I was a freshman in college, I remember watching the Ducks play the Stars in the second round of the playoffs.  The game headed to overtime and my roommate Geoff went to sleep.  Lights out, TV on, volume off.  Five overtimes later, Petr Sykora lit the lamp to give the ducks a 4-3 win in the 4th longest game in NHL history.  I don't remember what class I had the next day, but it didn't matter…it was epic.
#6 – The NFL Playoffs – This excludes the Super Bowl.  I have to say that my girlfriend and I just reached the two year anniversary of when her and I began dating and I feel very bad for her…every year, the weekend of the Divisional playoffs fall right on her birthday.  I do the best I can to be a good boyfriend, but needless to say I get a little distracted…especially with the Patriots playing on Saturday evening the last two years.  In terms of professional playoffs in the four major American professional sports, you simply cannot top the NFL.  Win or go home is exciting as it gets…exhibit A…last year…the Pittsburgh Steelers against the Denver Tebows…
Favorite non-Patriots memory – Just watch the video again.
#5 – The Masters – "Hello, Friends".  Sure there are four Major PGA tournaments, but this one is the best in my mind for so many reasons.  First of all, it happens right on the heels of the NCAA tournament just as we're getting ready for Spring…the snow is melting, the weather is getting warmer and all the world's best descend on one of the greatest golfers in the country.  The course is another one of the reasons…getting to Augusta National is one my bucket list.  Walking that course and experiencing it in person would be a dream come true.  I'm partially biased because it also falls on my birthday weekend every year.
Favorite memory – 2004…my 20th birthday and Phil Mickelson's first Major Championship.  He could never seem to hold it together in the clutch, but on that day, "Lefty" sank a great putt on 18 to win it by one stroke.
#4 – The Olympics – There are so many events that it's impossible for my to separate…hell I can't even pick between summer and winter.  The stories that come out of the Olympics are incredible…so many of the competitors came from nothing to get there and will return to full time jobs when they're done.  I have my favorite events…hockey, swimming, beach volleyball, soccer, basketball, skiing to name just a few, but last weekend I found myself literally standing in front of my television as the United States battled Italy for gold in…archery.  I've gotten hooked on curling in the winter as well.  I told you…I LOVE international competition.
Favorite memory – My favorite memory will always be covering the 2006 Olympics in Torino as an intern for NBC.  Working side by side with Jimmy Roberts everyday for three and a half weeks was an experience I'll always cherish…I wish I'd been able to watch today's instant classic in women's soccer between USA and Canada.  Hopefully the Americans can finish the deal and win gold, but last time the cardiac kids eeked out a semifinal thriller was in the 2011 World Cup…and they lost to the very team that they'll battle for gold on Thursday.
#3 – The Super Bowl – I fully expected to make this number one when I started this list.  The more I thought about it, I realized that a big part of the reason I love it so much, is because the Patriots have been in 5 of the last 11.  Don't get me wrong, I love the Super Bowl and I always will (#3 is pretty high praise), but there are two events I look forward to just a LITTLE bit more.  Believe me…this is a close 3rd…now for a real sleeper.
Favorite non-Patriots memory – Well, I only have six Super Bowls to choose from in this century since the Patriots seem to be in it so often, but I think I would have to go with Rams/Titans back in Super Bowl XXXIV.  Wasn't the most exciting 60 minutes of football, but talk about an incredible finish.  ONE YARD!!
#2 – The Ryder Cup – I know I said that I was going to exclude my emotional biases for favorite teams, but that goes out the window here because the Ryder Cup by definition is USA vs. Europe.  I don't know if it's a product of me getting older, but once a casual golf fan, I'm now an avid enthusiast and for some reason I LOVE match play.  The format is great, I enjoy the camaraderie of team golf and as I've mentioned before, I LOVE international competition.
Favorite memory – This is an easy on…1999…Brookline, Massachusetts.  The Americans engineered the single greatest Ryder Cup comeback in singles play, capped by this putt
#1 – The NCAA Tournament, Rounds 1 and 2 – Jeez, I guess technically now it's rounds 2 and 3 with the addition of "The First Four", but whatever.  There is no event I look forward to like this one.  I have taken the Friday of round one off from work every year for the last five years.  I've taken a half day on Thursday for the past four.  32 games in the first two days and 16 games over the weekend.  Buzzer beaters, upsets, crazed student sections, school pride, guys playing for love of the game.  Sure the tourney features your "one and done" future NBA Stars like Anthony Davis…but for every Anthony Davis, there are another hundred players that will make their living selling insurance rather than playing in the NBA.  These kids sacrifice their bodies and work their asses off for a shot at One Shining Moment.
Favorite memory – So many games…so many memories…I'll give you three.
Back in 2005, I was watching at a hotel in Boston with my intramural basketball team as TJ Sorrentine drilled one "FROM THE PARKING LOT" (thanks Gus Johnson) to lead Vermont over Syracuse…PS, I picked that upset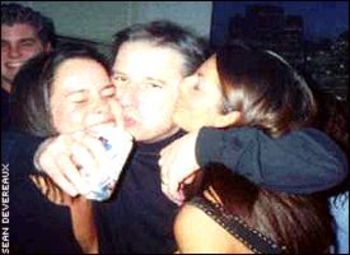 The image engrained in my head from the 2001 tournament was Hampton head coach Steve Merfled lifted off the ground from behind by one of his players with his legs up in the air as his 15 seed Pirates knocked off Larry Eustachy's Iowa State Cyclones…hey whatever happened to Larry Eustachy?
Aaaaand lastly, in 1997 I watched a 16 seed Fairfield team that I'd never heard of take UNC to the brink in what was for a long time the closest 16 vs 1 seed game ever.  That was the last time Fairfield made the tournament with several close calls in the MAAC conference tournament since.  A proud alumni, I'm dying to see my team in the dance…Some day…
…some day…