Commentary by THE BULL & BOYER...
Mt. CACMore 53 Kaplanned Parenthood 68
Kaplanned Parenthooded a BDraft Ship
We all know the scoop coming in this one, since I made one hell of a preview, so if you don't know it. Then you can suck it. Joel Shaffer was still off in Wonderland or Tomorrowland or Dummyland.........Whatever you would like to call it. Fake Harry was also out in this one, apparently he's going to be a real life lawyer. Like the world needs another one of those........TO THE ACTION!
MtCACMore came out flying, thanks in large part to captain Noah, fresh stroking himself all night long after getting a Franchise B title.......For some reason, Gans on his him, so he feasted upon Gans early on in the post. Doing the same move we've seen for about a hundred seasons. I guess Gans was too busy launching threes to take notice of this. Anyways, it was 8-0 right off the gate, with Noah getting 6 of them. MtCACMore would inch out to about an 8 point lead mid-way through the second half, before Sammy would takeover.
Sammy, desperately needing an award from me to validate his existence and make his way on to the famous "Bull Squad" was straight fire in this one. He was cashing treys left and right, going 4 for 6 in the 1h, to go along with 4 buckets inside the paint. I captured some of the action from his hot start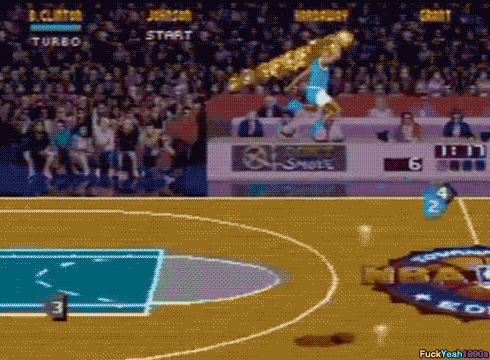 It was an impressive showing, in the biggest game of the season, which led to his team getting out to a 9-point lead, 30-21 with 2:14 left in the 1h. MtCACMore had hit a serious lull after their initial start. KP had started to strategically double the post on both Noah and PLAYOFF STAT, but MtCACMore couldn't find the open man in time or get any penetration when the open man got the ball. It looked like this was the first time they were playing with each other.
The highlight of the first half is when they found PLAYOFF STAT on a post entry from the other side of the court with 2.5 seconds remaining for a bucket, to go into the half down 38-27. It's amazing that anyone could allow a post entry from the other side of the court, but that was the last highlight of the game.
1st Half Leading Scorers: Sammy 23 Pts......Kap 8 Pts............Noah 8 Pts.........PLAYOFF STAT 10 Pts.......MC1 7 Pts.........
The second half wouldn't get much better for MtCACMore, as Kap and Sammy would wreck havoc upon them in the PnR game. Sammy didn't hit a trey ball in the 2h (in fact no one would, as both teams combined to go 0 for 20, you guys fucking suck), but scored 10 pts from inside the paint off Kap/Gans/Pizza dimes. They were able to get anything they wanted off the slow reacting defense of MtCACMore.
Somehow the offense for MtCACMore would get worse in the 2nd half. They just couldn't get anything going. The only reliable offense was dumping it down to PLAYOFF STAT and hoping something good would come of it. Of course they couldn't hit a jumper, so the only plausible hope was a PLAYOFF STAT power lay-up or foul.
The score was 51-34 with 11:34 left............MtCACMore went a 4-0 run, but then KP responded with a 4-0 run of their own, to make it 55-38 with 6:47 left..........Yes, both teams scored a combined 4 points in a 5 minute period, that's what kind of offensive clinic it was out there. MtCACMore would mount a little run later off one of Kap's "my bad" three ball attempts from some where in Alaska............They got it down to about 11, getting some turnovers in the last few minutes scramble games can turn into, but they didn't have enough time or fouls to even get the lead down to single digits.
Your 2017 BDraft Spring Champions: THE AMIRS! I mean Kaplanned Parenthood.
BDraft Spring Finals MVP: Sammy! 33 Pts 8 Boards, 2 Assists, 4 steals and 3 blocks.
Grades
Kap B+: Bad shooting night, but the dimes were there and so was the defense.
PIZZA B+: 3 dimes! Good scoring, but shot was a little off.
AAAAAAAAAAAAAAAAAMIR B: For viciously ripping down two boards.
Sammy A+: Great friggin game.
Gans A+: Captaining a ship gets you an A+........Even if he can't shoot anymore. I look forward to next season when he shoots 60% from deep.
MtCACMore:
Mike Tsui C: Not a good game, they needed his buckets.
Kari C+: Ditto for him, but his defense was pretty good.
MC1 B-: Did not win his match-up.
Noah A-: Somehow got to 18 points, which is more than enough from him.
PLAYOFF STAT B+: Filled up the stat sheet, but could have been better, especially defensively.