BFab Going Away Party ~ Tommy Doyle Fundraiser!
Originally Posted
2011-02-22
Well – the time has come and unless I am named the Sunday Morning League official (psst – I know you need someone,Tibbetts – I'm available) then my CAC sneakers and write-up wit are being put out to pasture – possibly for a final time.
Sure I will be around to fill in from time to time for Ass-Hat Stiffs like Kaplan and Durbow (seen here on the left realizing I was his last hope for CAC titles..) but for those of you who don't know or have been living under a rock or have been spending time in "Mamby Pampy Land" (I love the Sarge's use of 'jackwagon'), I have accepted a job in Stamford, Connecticut full-time and will not be available most weeks to destroy Kahanain write-ups or send my "goon squad" afterFilosa. I kept my obligations of mentioning TK twice.  Now it's three.
Now I KNOW each and every one of you is aware that I am trying to drum up donations for the Cam Neely Foundation during tough times for most.  Heckling doesn't work when trying to gather good will towards a great charity – so I've been trailing badly in adopting ways to ask for donations.  So I figured – I would finally give you all what you have been looking for: BEER AND FOOD.
Really – I'm not kidding.
Tommy Doyle's has opened their doors once again to me and have allowed me to throw one last big extravaganza.  While this looks like a thinly veiled attempt at throwing my own pseudo going-away party – I had this charity event in the works for quite sometime but why not make it a last hurrah as well?
We will have restaurant gift cards, Starbucks gift cards, Stop & Shop gift cards, and as a grand prize – a night's accommodations at Hotel Marlowe in Cambridge along with Red Sox tickets.
Details?
When: THIS FRIDAY NIGHT, February 25
Where: Tommy Doyle's Irish Pub, 76 Winthrop Street, Cambridge, MA (Harvard Square Location)
When: 7 to 9pm – Crimson Lounge (downstairs) for private open bar party.
After private party – 9pm-12am upstairs – three bands, including Garrett Tingle (Genzyme/Tommy D's fame) playing some music) and a DJ.
Price: Open Bar (7-to-9pm), Dinner, and a Raffle Ticket = $40.  Again a portion of the proceeds go to the Cam Neely Foundation.  I have paid for everything up front so the more the merrier as the profits are all going to a great cause.
The rest of the night – Tommy Doyle's is donating 10% of the entire bar take from 7-to-close to donate to the Cam Neely Foundation.  NOW THAT IS WHAT I CALL STEPPING UP!!
If you can not attend – please think about donating even $10 to the cause as it's totally worth while – Cam Neely Foundation Donation
PS – If I reach 60 people for the private party – which I think I will – I will be raffling off a second set of Red Sox tickets just for the private party. My seats are infield grand stand in Section 12 on the aisle.  Hey – I made some money at Genzyme, but I just acted like I was someone important!! We even had a poster created for the event.  Feel free to print it off and paper Tibbs' office with it while he is in Italy.  I would do it if I was still in Cambridge – you all know that…: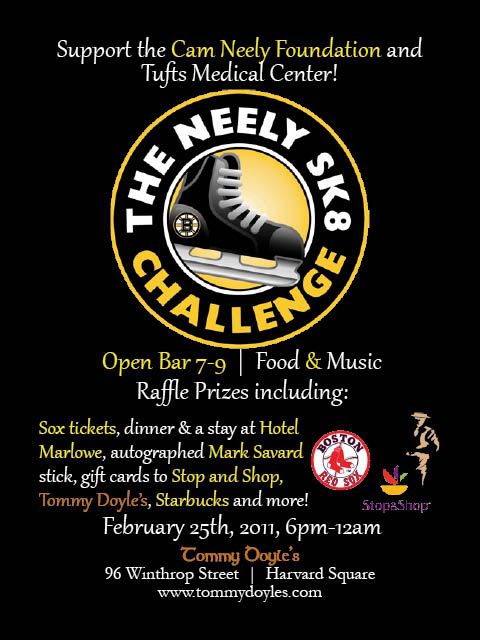 Any questions?  Hit me up on private messages on the Message Boards or brianfabry@gmail.com .