Red Sox Game With MikeD – Sort Of
Well, well, well my first stab at a legit blog entry. I'm sure I will defer to the usual interview of some random B2 West baller or B 5-on-5 stud as the rest of the group does but for my very first real blog entry I feel obligated to go old school.
And who is more old and likes to be taken to school more then Michael Diranian aka MikeD? Michael's resume at the CAC is starting to mimic Tibbs.  What do I mean by that?  Tibbs CAC resume, at least ON the court, includes one championship banner in roughly 18 seasons.  Tibbs playoff yips are legendary.  MikeD tried to lie, cheat, and steal his way to a championship banner but the quote of the year comes from Pete the Diamond Diamantides:
"Um, Mike since I've been here we have yet to beat Genzyme." Really, when does a rivalry become a non-entity. This should be in a rebuilding year for NWO and they added the deadly Scott Marino but it still just isn't enough.  Even Kevin Ostrander (the super-stud everyone knows as K.O. in the CAC world) distanced himself from MikeD saying they tossed him off the B 5-on-5 team.  No wonder they are dominating most Wednesday nights.  Isn't Filosa a Saugonian? Couldn't MikeD break out the Golden Banana card to get Filosa to run with his B1 crew? Oh I forgot that Tibbs put Wolverine out to pasture at the Kennedy Museum.
Anyway back to the story at hand.  I got some Red Sox playoff tickets from Mr. Mike Diranian last season and the tickets happened to benefit JBerr as I figured the least I could gain was watching her take down her fabled hotdogs each and every inning.  Had to see it for myself, no?  Hell it benefitted both of us as the Priceless Princess of the CAC was able to roll out a blog post that had people thinking and talking. The icing on the cake no less?  It was last years game when the Sox were down 7-0 going into the bottom of the 7th inning and with Tibbs and Gripp a few rows back as well it wound up being a legendary evening at Game 5 of the ALCS.
So what better way then returning the favor as MikeD and I needed to settle up for those tickets even though I've beaten him for about 900 beers on the court since then. Should have just double-downed on the price of the tickets in a Genzyme-NWO tilt but if I gotta pay it's easy to hand the Man From Saugus a few bills for dinner and Sox game as he has always been gracious to me. And what better way to basically spend Mike's money then good food, beer, and summer baseball?  Well maybe not gracious to OD, Cheese, Chise, and the rest of his B1 West squad this year as he constantly leaves them hanging with the new excuse as "passport issues" in Bermuda. Never gets old in Saugus.  Never.
So I took some minutes of the day leading up to the event. Enjoy!
1. 10am – Gerrity-Tibbs feud called off due to a runny nose. *(little outdated as Gerrity demolished Tibbs the next week and I have video to prove it. That will be up shortly courtesy of JRod's fine video editing skills).
2. 11am – Mike finally calls and has me going to dinner in Saugus for the Sox game? Already mucking up the operation. Why would I travel to Saugus for dinner regardless of the fantastic sights and sounds of Saugus? Did I just say that?  Oh, JarSar's recommendation? Now it makes sense.  JaySar gives Mike a restaurant in Saugus to go to prior to a Sox game. Great planning.  Might as well stay on the South Shore?! These guys know I live in Plymouth, right? And no. not Plymouth, NH.
3. Moving dinner to Eastern Standard rght as you make your way off the Green Line. Perfect.  Had to pull the wife in to figure this out as I am not originally from Boston but I though Mike's infinite wisdom would get us somewhere near the park.  First mistake.
4. Nice. Just went from 10 bucks a plate to 30 bucks a plate – minimum. Check out their menu online and already MikeD is realizing his Sox playoff tickets to me last year might have been a great investment. I'm getting their early to get drunk so the pain in my wallet is slightly numbed.
5. Barely make train looking for my ATM card. Had to stop at bank to take out the equivalent of a small countrys gross domestic product.  Gotta think with MikeD getting a ride into town he's not stopping at two talls like we do sometimes at the 99s.  Not mentioning the withdrawal as I might have to eliminate paper statements to the house to avoid the questions.  Who am I kidding?  Two talls at the 99s is where Jack starts us off.  Never ends there and this night might not either unless Mike gets to the park on time.
6. BOOM BOOM BOOM – Tibbs new fight song by the Black Eyed Peas. Might be the start of something good.Wait anything associated with Tibbs is not the start, middle, or finish of anything good.
7. Like I said earlier not a native to Massachusetts even though I've been here since 1997 I can still pontificate on things that are not up to snuff.   The Green Line?  Totally bogus. I could not be any earlier for the Sox game. Game starts at 7:05 I'm on the green bucket train around 2:30 and it is a sardine-can sweat box.  Even better the "Fenway" stop is not Fenway Park.  Gotta get off at the Kenmore stop and if u get on E train – good luck. It's like going 93 South when you are really on 128 North. Whoever drew up the transportation plans for this state really has a sense of humor.
8 Entire train ride – just under 2 hours and could not be hotter or smellier enough. But wait one second – HEY NOW – bikini getting off at the Fens – I mean Kenmore? Getting better. Only 3pm. Early. Time for booze to kill the whole memory of that train ride.
8. Beer is ice cold at Eastern Standard.  That's a major plus. Harpoons are pretty smooth in the summer sun as I sit on the outdoor patio.  Only 3:32pm – pace yourself Fabry – pace yourself.
9. Now I can make comments on the state of affairs of something Massholes find "ok" I can dish it out about New York as well. Lived in Queens till I was out of college so Iím a die-hard Mets fan by trade – but if the two Mets fans that just walked into Eastern Standard strutting their stuff are indicative of the dbags showing up tonight – there might be fights all night long.  Looks like friends of Mazzone's disguised as Met fans.
10 Never fails – some flown walks into Eastern Standard with a brand new brimmed-out Yankee hat. Only took till 3:52 for the real ass clowns to start showing up. This is how this jackholeís day started:
(Looking in mirror):  "Hey Mets and Sox are in town I'll breakout the new wife-beater and toss on my Yankee hat even though I couldn't tell you who starts in center field for the Evil Empire. I just like being a douche. Maybe with a Yanks hat and my buff beater I'll just hope to get on the evening news".
11. Get Up – Stand Up – You look like a douche. Thanks Bob Marley.
12 – Mike D finally calls again.  He is going to be late.  If you didn't see this coming then you must be a rookie in the C League.  Gonna be late – yeah I know.  Saugonian Kid would be late for a threesome with Aniston and Jolie and I think heís going to sit in the sun with me for beer #3?
13. If I made this up I'd be pretty funny but you can't make this up.  Three gay guys walk in (yes Gay-Dar alert) and one is wearing maroon jorts. I'm envisioning Frail looking like this *(jorts bet). Like knee-length jorts. Are these back in style within the gay community? Henderson? Dobos? I wish I had a camera but obviously time for more beers!
14. Photos from yesteryear of Filosa (with Tibbs also rocking the short jeans) on Revere Beach and MikeD enjoying the jorts prior to a big night before the Banana: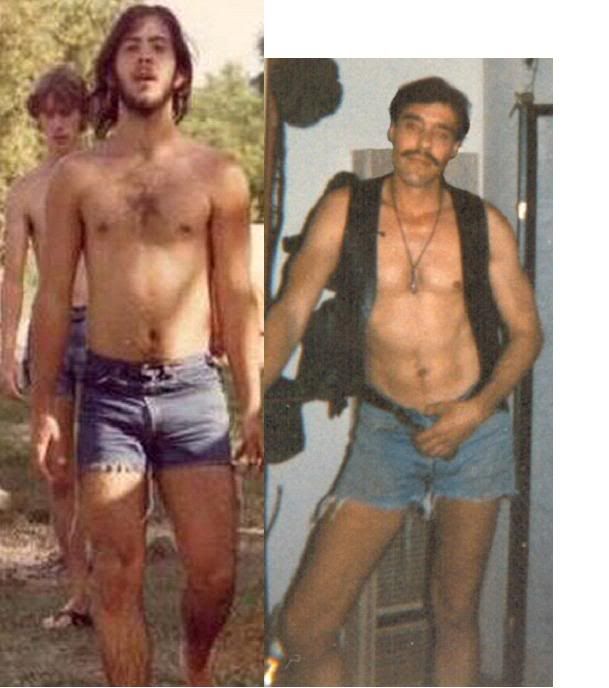 15. MikeD shows up around 6pm. 3 hours of waiting and eating at the raw bar just heckling the onlookers.  Well – I probably looked retarded sitting by myself on a patio deck drinking my face off before a Sox game.  So once again, MikeD pays me back tenfold for basically showing up two hours late.
16. Yes my note taking is done cause MikeD is with his beautiful wife, Robyn. Need to try and be cordial since there is NO WAY Robyn likes the CAC, the characters of the CAC, or anything associated with the CAC. Cause she could not be nicer and if she puts up with the MikeD we know I gotta find out how and why.